Article by Evan
In this article, you'll learn:
How bookkeeping differs from accounting
Why bookkeeping is crucial to the success of your business
Why outsourced bookkeeping can save you from financial disaster
Outsourcing bookkeeping: How to do it effectively
How to keep from being ripped off by shady bookkeepers
Who to trust with outsourcing is one of the most important decisions an ecommerce firm can make, and outsourced bookkeeping is no different. 
A good move here can lead to smoother operations and better financial decisions while hiring the wrong team can lead to nasty (and expensive!) surprises down the line. 
With that in mind, we want to provide an all-in-one resource to help you take care of your bookkeeping so that you can focus on the rest of your business. 
First, the Basics: What Exactly is Bookkeeping?
In a nutshell, bookkeeping is the recording of all the financial transactions that happen in a business each day. This goes from the smallest payment to a supplier all the way to receiving payment for a major contract. All of these items need to be recorded somehow and it's a bookkeeper's job to do so. 
A common misconception when thinking about bookkeeping is equating it to accounting. These are in fact two separate jobs, although they are closely linked. The bookkeeper compiles data while the accountant helps make sense of it for management, reporting, and planning. An accountant can help business owners calculate their taxes (tax bookkeeping) prepare detailed financial statements or create projections. But, the raw material that the accountant needs for all of this comes from the bookkeeper. 
Most day to day bookkeeping work revolves around filling up a general ledger and monthly accounts. Here, all the transactions of a business are recorded, along with debits and credits. Additionally, it is up to the bookkeeper to prepare proper invoices and payroll – two critical functions in a business. 
Gone are the days of large dusty tomes and inkwells. Most businesses have migrated to virtual bookkeeping. There are many options that make use of the latest technology such as mobile apps and cloud bookkeeping. Many also tailor their offerings to specific industries such as the Shopify QuickBooks desktop integration package. But even with the advances of AI, there is simply no substitute for a skilled and experienced bookkeeper.
How Does Bookkeeping Differ from Accounting?
To the untrained eye, bookkeeping and accounting are the same thing. Yes, both accounting and bookkeeping include financial data, basic accounting knowledge, and the use of financial transactions to generate reports.
But, bookkeeping is all about mechanically recording and double checking daily transactions, while accounting is more about setting the rules of the game. Accountants make the big management decisions about the data, while bookkeepers record it.
Here's a nifty table showing exactly what an accountant and bookkeeper would do once you put them on the payroll: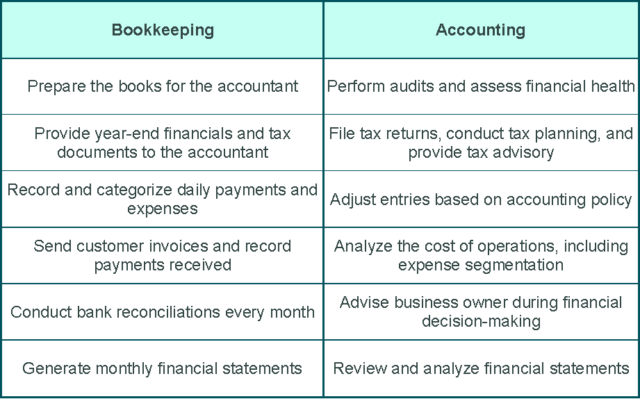 Why Bookkeeping is Critical to the Success of Small Businesses
Bookkeeping and business go hand in hand like PB and J. Can't have one without the other. But why?
As your business grows and expands, a bookkeeper's services can help you in various ways:
Avoid financial errors
An expert bookkeeper can help you maintain accurate records of expenses, revenue, and other bookkeeping entries. A mistake on your record can cost you penalties when you file documents in the future. A good bookkeeper can help you avoid these errors and preventable penalties.
Save on accounting fees
For example, you didn't prepare any financial statements throughout the year, then handed the task to an accountant to file your tax return. In other words, an accountant will prepare financial statements spanning an earlier period, which is essentially what a bookkeeper does.
Having an accountant do this is more expensive than hiring a bookkeeper. Hence, you're better off with a bookkeeper to reduce costs in the long run.
Pay fewer taxes
Bookkeepers who are familiar with the industry you operate in know the types of expenses that are common in that industry, as well as what expenses are tax-deductible.
Time-saving
In the long run, your company will be more successful when you don't have to worry about bookkeeping tasks.
Better cash flow
Tax preparation and financial statement preparation are not the only things bookkeepers do. An excellent bookkeeper will inform you which invoices are still unpaid, which customers or vendors owe you money, and other juicy information.
Bookkeepers can help you figure out where your money should go. In other words, they'll improve your cash flow.
Better business analysis
Business owners must understand how their businesses are performing financially, and in what areas they can improve. That's when an experienced bookkeeper comes in handy. They can carry out a more accurate analysis of your business.
Increase investor interest
Companies with messy finances will not be attractive to investors. When you keep accurate bookkeeping, you can provide investors with current and projected financial statements.
Make business decisions more effectively
Effective bookkeeping allows you to monitor expenses, revenues, and budget. In order to make well-informed decisions, you must know your business's standing. And you can't know that without accurate records.
All the accounting tasks that businesses perform as they grow are based on bookkeeping. So, high quality accounting decisions require high quality bookkeeping, while bad bookkeeping (miscategorizations, missing transactions, etc) can turn a routine audit into a fiasco. 
Owners rely on bookkeeping for decisions every single day. Major operational or financial decisions are often done based on the business's books and if the numbers are off, this could lead to poor decisions and huge losses. A wrong assumption based on erroneous books can turn a great strategic decision into a massive failure. So, never take the importance of bookkeeping for granted if you want to make high quality decisions.
Likewise, good bookkeeping involves accurate classification of your business's expenses into a sufficient number of useful categories. This provides invaluable information that managers can leverage to see how to improve your business's profitability and margins.
But solid bookkeeping is just as important for daily business operations. Your business doesn't function inside a vacuum. It is interconnected with a web of suppliers, employees, or distributors. Good bookkeeping allows a business owner to easily keep track of all these financial relationships, ensuring there are no shocks to your cash flow and most importantly, that your own employees are paid on time. 
Managing your business' bookkeeping isn't a choice. While you can pick how you want to do your books (outsourcing, software, etc.), your shop must have a bookkeeping system set up.
The IRS only asks for two things during a business setup — business structure and bookkeeping or accounting method. Without it, you get a pretty messy tax return. You know what that means … trouble with a possible IRS audit (e.g. red flags and fines).
As if that isn't enough, you might get a package of smaller—but just as bad—problems that'll leave your pockets pretty sore in the long run. For example, imagine having to face these issues because you couldn't be bothered to put solid accounting into place:
Poor bill tracking causes you to miss a number of credit card payments, causing annoying credit issues.

Poor tracking of where your expenses go causes you to lose your hard-earned business money for seemingly no reason

Bad management of your books can get you into legal situations (The bad ones, where you either go behind bars or lose your house)

Not knowing where your business stands financially will cause you to miss out on juicy business opportunities, and make poor business decisions
Why Outsource Bookkeeping?
Why outsource bookkeeping when you can do it yourself in-house? We're glad you asked:
Increase productivity by reserving time for higher level tasks

Saves you a ton of money compared to hiring a full-time or part-time bookkeeper or CPA

Outsourced bookkeeping is usually handled by a team rather than a single person (let's take the Delta Force approach; a team is usually more effective)

Increase bookkeeping efficiency with access to the latest bookkeeping software, strategies, and best practices

Online bookkeepers are easily accessible through your mobile device. Therefore, you can track your bookkeeping progress from anywhere
When just starting out, business founders often do everything themselves: operational management, financial management, sales, marketing, cleaning toilets – on top of making top level strategic decisions as CEO. 
Business owners at this stage may not think they need a bookkeeper, and they may be right. But managing the books can take up a lot of time, energy, and focus — commodities that are in short supply when running a small business. Eventually, work builds up to overwhelm the founder and basic bookkeeping can take a back seat to other immediate tasks. But bookkeeping is an essential business support task no business owner can ignore for long. 
This leaves founders with two options: Either refocus on bookkeeping, neglecting other critically important work, or hire a bookkeeper. Ecommerce and online business founders can also outsource bookkeeping to a virtual assistant bookkeeping solution provider, which often have expertise in ecommerce businesses.
Taking the first route, doing the work alone in-house, really requires the founder to learn bookkeeping from the ground up to complete high quality work — something that no founder has time for. Taking on an increasing number of support roles really taxes founders, and leads to a range of negative outcomes: heart attack, divorce, family estrangement, bankruptcy, etc. 
The second option often leads to virtual assistant bookkeeping horror stories, where the virtual assistant creates more new problems than they solved. 
The smart choice is to outsource and simplify bookkeeping to a professional and use that newly freed up time to refocus on priorities, such as reconnecting with family, getting some exercise, or growing the business. 
Speaking of growth, nowhere is opportunity cost more felt than in the start up phase of a small business, where every small decision can lead to both negative and positive impacts. In many cases, the benefit from outsourced bookkeeping is worth it because the return on growth from the time you have freed up far outweighs the cost of outsourcing to a bookkeeper. 
When to Outsource Bookkeeping
The thing about outsourced bookkeeping is that the amount of work required scales with the business. In the very beginning, the amount of bookkeeping you will need to do will be minimal. However, as the business grows, so do the pace of transactions and the amount of bookkeeping to keep track of them. 
This is doubly so for the ecommerce scene, where businesses can rapidly scale up in days and weeks instead of months or years. For these businesses outsourced bookkeeping is something to start before you think you need it.
That's why we believe that while in the beginning you don't have to outsource bookkeeping and may be better off doing it yourself. But, once it reaches the point where you are spending 3 to 5 hours on it each month, you are better off relying on outsourced bookkeeping in order to save time and keep scaling.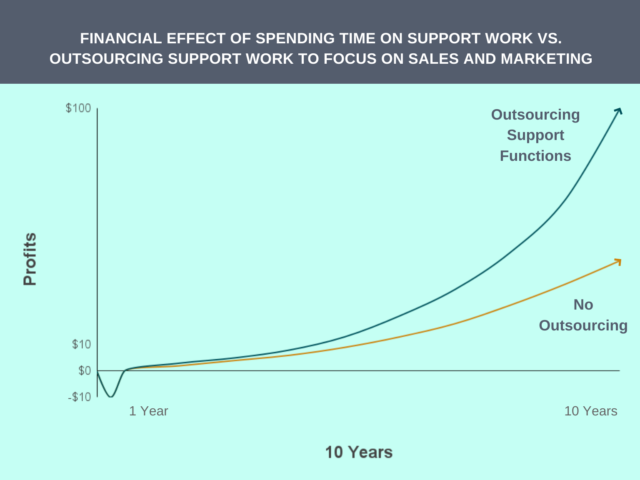 Another important criteria to check before you begin with outsourced bookkeeping is to make sure you have a stable source of revenue coming in. Bookkeeping is an ongoing task that needs to be constantly tended to. Huge administrative headaches can occur if your revenue is still spotty and you have some months where you won't be able to cover the outsourcing, leading to gaps, service disruptions, and the potential to miss important transactions. 
Best practice: spend money to grow your business when you have it. Do not spend time growing your business.
Business owners often get stuck in the trap of trying to do everything themselves. The idea is usually, why pay someone when I can do it myself, and possibly even faster?
The truth is that nobody knows your business better than you. Nobody understands your vision, marketing plans, brand, how you want to approach customer service, product offerings, or the critical projects & tasks that have to get done to move your business forward… better than you do. So, you could spend your time logging transactions into a spreadsheet in order to save a few bucks, but that will only take time away from doing things to grow your business and boost profitability.
After all, one hour spent on logging transactions in your bookkeeping software is an hour less than you have to develop a new product, understand the customer better to fine tune your marketing, or train your customer service staff on how to better retain buyers. All this adds up massively long term.
The consequences of being cheap by trying to save a few bucks on business operations instead of outsourcing ultimately means thousands (or possibly millions) of missed dollars long term. You'll simply miss out on creating a larger, more profitable business.
Who to Outsource Ecommerce Bookkeeping to for the Best Result
As an ecommerce business owner, the first thing you want to check is whether this outsourced bookkeeper is familiar with the ecommerce space and ecommerce invoicing. Each industry has its own quirks that are important for your bookkeeper to understand. Make sure to ask whether he/she is an ecommerce bookkeeper and has relevant experience, whether as an Amazon bookkeeper, Shopify bookkeeping, or other related platforms. 
For example, there are unique features in Quickbooks for Amazon sellers that someone with experience would know and if needed, the right bookkeeper will know how to set up Shopify Quickbooks online integration.
The next thing you need to look for is their level of experience. We've gone on and on about this, but bad bookkeeping can cause a whole host of issues down the line. To avoid this, you want to look for an outsourced bookkeeper with at least 5 years of ecommerce bookkeeping experience and who has experience with Quickbooks ecommerce packages. 
This guarantees that they will understand the specific needs of your business as well as the ins and outs of the ecommerce industry. For example, ecommerce firms whose businesses revolve around Amazon would naturally want someone who can do bookkeeping for Amazon sellers. 
You may be tempted to cut corners here and pay the minimum price when outsourcing or take a gamble on someone with less experience. While this may cut costs in the short term, the long term damage may be far more costly. When you pay peanuts, you tend to get monkeys: these cheaper options may not know how to properly use software platforms and they may not be able to think like a manager and make their own, well informed, decisions. 
 Accountants make terrific bookkeepers. They are very familiar with the work and most have a license which proves their expertise. Finding an accountant willing to do outsourced bookkeeping work is another story because accountants are overqualified for bookkeeping. 
The license is also important as there is no internationally recognised license for bookkeeping like there is with accounting or practicing law. However, there are certifications out there that add legitimacy to a possible candidate. 
Best practice: Find someone competent who can grow with your business so you do not have to rehire.
Think of your business as a ship sailing across a sea of both good and bad opportunities. You're the captain, your bookkeeper is the engineer. They gotta have the initiative to figure out how the ship works, be aware of every nook and cranny and know what happens when the ship gets bigger. 
Basically, pick a bookkeeper who — if they haven't already — can grow flexible enough to both plug all holes when your business hits a financial iceberg and quickly set things neat and tidy when your business grows bigger.
To better elaborate, the ideal bookkeeper will be:
1. Organized, efficient, and process-driven
A good bookkeeper understands your niche, business processes, and requirements so they can hit the road running.
By streamlining and adhering to processes, they provide timely reports and meet the deadlines your business requires.
Bookkeepers should be committed to both your financial and business success. They should have a great eye for detail and be enthusiastic about keeping your accounts updated and error-free.
2. Trust and Ethics
Trust can only be built between two parties who feel comfortable with one another.
Bookkeepers have access to much of your business's most critical data. Since bookkeepers maintain all of your company's essential financial records, they play a central role in keeping your business' invoicing, payroll, and taxes clean.
Your bookkeeper should be someone that you can fully trust. Prior to getting a bookkeeping service, feel free to ask them everything you can think of about how they can safeguard your financial data. If you feel that you can't fully rely on them to be accurate and transparent, then you need a different bookkeeper.
3. Certification and In-depth Knowledge
Make sure to get a fully certified and licensed bookkeeper. In an unsafe attempt to cut costs, some businesses decide to hire unlicensed people to do their bookkeeping. Hiring non-certified bookkeepers can be quite a double-edged sword because even though these people might save you money in the short term, they'll likely make more errors and cost you a lot later on.
4. Excellent Communication Skills
Yes, yes this might sound like a generic requirement for employees of every business we apply to, but trust me, you want to keep lines of communication between you, your bookkeeper, and other staff.
To work at their best, your bookkeeper must know about or be aware of your business operations, as well as goals and issues. The ideal bookkeeper must have the ability to maintain professional relationships with your business managers, suppliers, customers, and staff.
There are many independent bookkeepers who freelance their services to multiple clients. Oftentimes they have their own sites, along with information about them, rates, and testimonials. Others spread their name through old fashioned word of mouth.
Another option is freelance sites such as Fiverr and Upwork, where those who are looking to outsource a position can post a job and have others bid on it. This has the benefit of attracting a wide range of choices. This combined with the wide number of foreigners offering offshore bookkeeping services and the bidding system generally leads to a lower overall cost. 
But hiring an individual bookkeeper comes with the same headaches as hiring any other team member. You never quite know how reliable the person will be, what happens if they get sick, decide on a sudden career change, and you tend to need a lot more hands-on management to ensure they do high quality work.
The other option, hiring an outsourced bookkeeping company, is a much better way to go. Companies tend to be more reliable than individuals, and smaller firms are often started by someone just like you who is putting their future on the line for the success of the business. Smaller outsourced bookkeeping companies are also more likely to tailor to your exact needs and treat you as a high valued client because you simply mean more to them. 
We started Etail Express to handle this exact problem. Our focus is on providing small and medium ecommerce enterprises with high quality and reliable bookkeeping that operates in the background. Since managers are so busy, we hire the most experienced and knowledgeable people we can find and build a deep pool of talent to tap into to ensure that there are no disruptions.
We focus on disaster cleanup work, as well as regular monthly bookkeeping, and helping founders new to professional bookkeeping get started. Click our virtual ecommerce bookkeeping service page for more details.
4 Key Questions to Outsource Bookkeeping for your Online Shop
Finding a great bookkeeping candidate means asking the right questions about your potential bookkeeping hire. We find these four absolutely critical for success because they really define what you are looking for:
Can you send me a copy of your bookkeeping certification?
You want to double check certification and not simply take the bookkeeper candidate's word for it. Make sure they are who they say they are and have the record to back it up.
Do you have experience with bookkeeping for Amazon/Shopify/eBay/etc?
While ecommerce bookkeeping experience is great, it's even better if they have significant experience with the platform you sell through. This makes getting the needed data and securing data feeds much easier.
What bookkeeping programs do you use on a daily or monthly basis?
There are multiple bookkeeping platforms, and different people have different experiences with different software. If you use Quickbooks, but they only use Xero, that's a problem.
What is included in your bookkeeping outsourcing service?
You want to know what you are getting. Standard bookkeeping services will include: recording transactions in your bookkeeping software, reconciling recorded transactions with your bank account, categorizing transactions (mostly expenses), and preparing paperwork to submit to an accountant.
You probably also want the bookkeeper to submit those documents for you, be able to look over your past bookkeeping work to fix mistakes or complete missing details, and help you link your accounts with your bookkeeping software. We've found these to be critically important to ecommerce business owners, which is why our own Etail Express bookkeeping service includes them.
For a full list of important bookkeeper hiring questions, interview tips, and the nuts and bolts mechanics of the process, make sure to visit our ecommerce bookkeeper hiring guide.
As you do your interviews with potential bookkeepers, you might want to consider gathering info about each of them and comparing the results. Here's a sample scenario:
This table displays 4 potential bookkeepers that we've just recently interviewed in the first row, while we have the ideal bookkeeper characteristics in the first column. We're going to compare each potential bookkeeper by marking the corresponding boxes based on whether or not they have the characteristics written on the first column. The (✓) means they have the characteristic, and we'll leave it blank if they don't.
To keep it simple, we'll score each bookkeeping firm based on how many checks they have.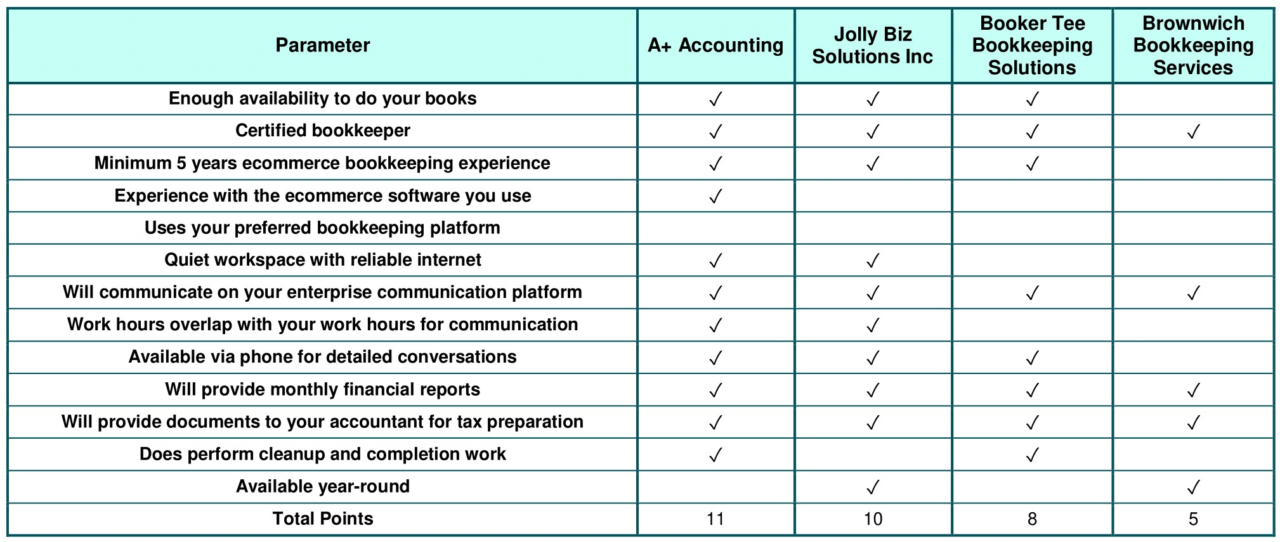 As you can see, we have A+ Accounting in the lead as our ideal bookkeeper who can provide the most value for our business. So we'll most definitely hire them.
How to Background Check an Outsourced Bookkeeping Firm
Background checking a candidate is a simple process of calling their references to ask how the work is performed and how satisfied the client is with their work.
Be careful, though. Background checks are not foolproof. Sometimes phoney clients are provided and work experience forged. This is part of the risk you take on when running a business.
How to Outsource Bookkeeping Once You Find An Online Bookkeeper
The choice of how to outsource bookkeeping really comes down to hiring an individual or a firm. Founders can choose among a number of freelancers to do their bookkeeping. Our preference is for a small bookkeeping firm because small firms are more able to provide you with a personalized experience (ie. you're not just a number in a cold hearted corporation's customer database), and you can avoid the disruptions and frustration that comes with your bookkeeper leaving on extended vacation… or for a different career. 
Initiate Your Outsourced Bookkeeping Relationship: Step By Step Instructions
Once you settle on your bookkeeper of choice, the outsourcing process is fairly easy. It'll consist of a number of steps that the bookkeeper will walk you through (assuming they know what they are doing), and coordinating on what exactly the bookkeeper needs from you.
Let's walk through the exact steps together. I'll first give you a general overview of the steps, and then discuss each step in more detail below. Ready to start?
Essential Overview of the Bookkeeping Outsourcing Process:
Starting Point
You can schedule a call with your chosen bookkeeping firm to discuss your specific business requirements. They might arrange a demo of services for you. You can then give them access to your bookkeeping system and proceed to discussing what bookkeeping tasks you need done. The bookkeeper will also analyze your books to see if there's anything that needs fixing.
Scope of Work
You will then receive an email from the bookkeeping firm's account manager that discusses the results of the analysis and to understand your expectations. They'll share the bookkeeping team's understanding of the scope of work so that you can review and provide feedback.
Kick-off Discussion
Before kicking off the work, you or your team can have a call with your chosen firm's bookkeeping team lead to discuss the following:
Each party's responsibilities and roles

A summary of the end-to-end accounting cycle and procedures in place, including:

Accounts payable process

Receivables process

Payroll procedures

Sales and purchases cycle for inventory

Acquiring, disposing, and depreciating fixed assets

Adjustments at the end of the period, including the closing procedure

When bookkeeping work needs to be performed i.e. daily, weekly, monthly, quarterly, or annually

Products/Outputs
Providing the bookkeeping information
The kick off discussion points 3 and 4 agree on when your team or you need to provide information. For instance:
Accounting software access

Placement of scanned documents in designated cloud folders

Access to bank accounts online

Statements for business credit cards and debit cards

Details of expenses incurred from owners' personal accounts

Drawings and contributions of the owner
Performing the actual bookkeeping
Upon agreement, the bookkeeping team of your chosen firm will perform the bookkeeping work. You will be notified of any questions, missing information, or questionnaires in accordance with protocols. Following feedback, the bookkeeping team will resolve outstanding issues. After bookkeeping team leads review the same, qualified managers will review it.
Deliverables
As soon as the bookkeeping work is completed, reviewed, and finalized, your cloud folder will be updated with reports, software backups, and review notes. If you require custom reports, the bookkeeping firm will also prepare them for you. Then conclude their reporting cycle once you have accepted all deliverables.
Now that the overview is out of the way, let's look at each step in more detail. 
Quickbooks is the most widely used bookkeeping program for small businesses, so we'll walk you through granting your bookkeeper of choice access to your online account:
How To Grant Your Accountant Access To Your Quickbooks Online Account: Detailed Instructions
You can invite your accountant to access your QuickBooks Online account in just a few steps.
Tip: Your accountant must have a QuickBooks Online Accountant to access your books. If they don't already have it, send them this link so they can sign up for free.
Granting Quickbooks Online Access
Step 1: Log in to QuickBooks Online
First, head over to the QuickBooks Online website and click on the "Sign In" button on the upper right side of your screen.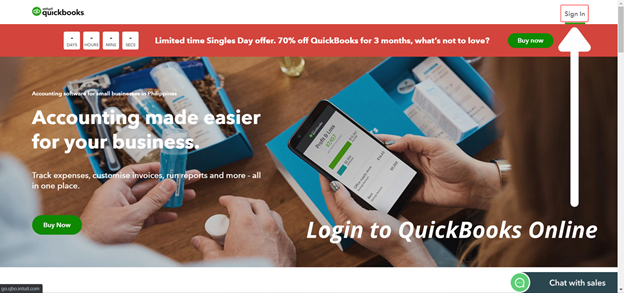 The "Sign In" button will be on the top right side of the page, opposite the QuickBooks brand logo.
Clicking the "Sign In" button will redirect you to another login page where you can choose to sign in via Google, your QuickBooks registered email and password, or via phone. Fill in your account information, and then click the big, green "Sign In" button.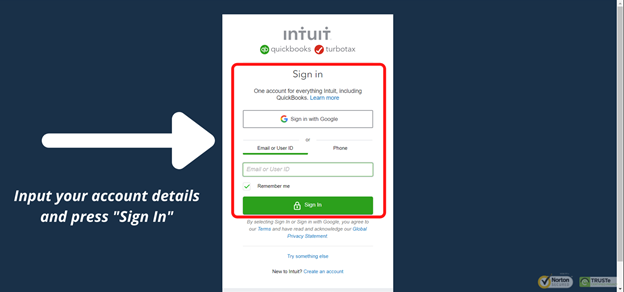 You'll find all the login options in the middle of your screen.
After clicking "Sign In," you will finally be redirected to your QuickBooks Online dashboard. From here, you'll have a variety of options on what you can do with your QuickBooks Online account. You'll also find statistics and the overall state of your business here. 
But let's focus on getting started with assigning your bookkeeper.
Granting Quickbooks Online Access
Step 2: Navigate to My Accountant
Once you land on the Quickbooks Online Dashboard, navigate to the drop down menu on the left side of the page.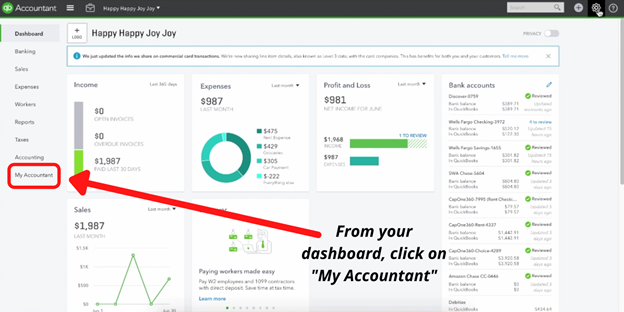 You'll find the "My Accountant" in the drop down menu on the left side of your screen.
From here, click on "My Accountant."
Granting Quickbooks Online Access Step 3: Send an Invite to Your Accountant
In the Manage users screen, click on the Accounting firms tab. Enter your accountant's email address and click the Green Invite button: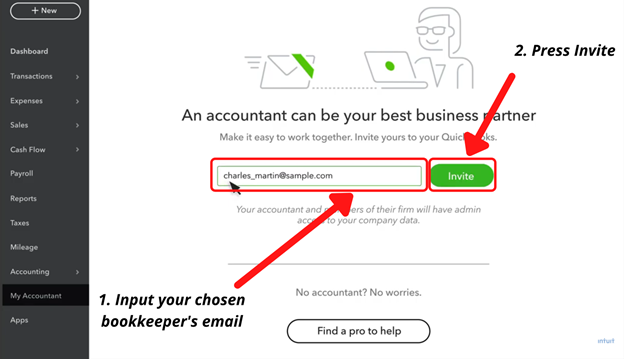 You can invite an accountant to QuickBooks Online by filling up the box with their email, and then clicking the "Invite" button shaded in Green.
Your accountant can share their access with other bookkeepers in their firm, so there is no need to invite two bookkeepers from the same firm.
Granting Quickbooks Online Access Step 3: Your Bookkeeper Is Notified and Setup Is Complete
After you send the invite:
Your bookkeeper will receive an email that contains a link to sign in to your QuickBooks Online account.

Once your bookkeeper signs in, their status on the Manage Users page will change from Invited to Active.

Your accountant will be given administrator privileges to all areas of your QuickBooks Online company.
Tip: Give your accountant a heads-up that you have sent this invitation so that they can check their spam or junk folder if the invitation doesn't show up. You can resend the invite from the Accounting firms tab of the Manage users screen.
Bookkeeping Rates. Worth Every Penny?
The final piece of the puzzle: How much does outsourced bookkeeping cost?
Bookkeeping prices depend on simply one thing: How much of a headache will your bookkeeper get managing your books? Bookkeepers charge based on the complexity of the bookkeeping work needed to keep your business running, and the overall time it would take them to complete. How difficult your books will be to manage depends on: 
Company size and life cycle, since bigger companies mean more transactions and problems.

Number of monthly transactions, since the more transactions made the longer it takes to perform the work

Number of credit cards

Whether you mix company and personal transactions on a single card because a bookkeeper has to take time to separate the two.

Number of invoices and bills to be sent, since the more invoices and bills sent, the longer it takes to finish the task

Number of bank statements to reconcile because more bank statements takes more time to work through
Although in some cases, your business environment can also affect the complexity of bookkeeping work:
Company policies and accounting systems

If your company is one of those super systematic machines that constantly need management approval to perform every task, then it'll likely take more time to perform bookkeeping

Having an accounting system that your bookkeeper isn't used to will also consume more time because the bookkeeper has to learn how to use it.

Reporting needs

The more detailed you demand your bookkeeping reports be, the more time it'll take for the bookkeeper to make them.
This table displays the rough monthly charges of outsourced bookkeeping based on business revenue and the number of paid employees. The bigger your business, the more complex your books, the more bookkeepers will have to charge. 

Due to the factors mentioned above, range estimates may overlap.
Read this article to see bookkeeping rates by location
Unfortunately for managers looking for a concrete price estimate, there is no one-size-fits-all answer. The right answer is, "it depends." Outsourced bookkeeper rates vary depending on the level of expertise, the size of the business, and where they're located geographically. Additionally, many offer bookkeeping price packages, where they bundle together numerous services that may or may not help your business.
An ecommerce bookkeeping specialist who has a proven track record and is able to be a value add will obviously command a higher rate – but in this case, paying more may end up being the better long term option as bookkeeping is such a vital operation to a successful business.
Best practice: You get what you pay for, so opt for the bookkeeper you need. If you are just starting out, get someone with much more experience than you have. If you have been bookkeeping for a while, hiring someone who may need occasional input may be fine. But, do not hire a cheap provider because they won't have the expertise, quality, and will see you as expendable.
Outsourced Bookkeeping: Absolutely Necessary for a Successful Business Today
Management guru Peter Drucker wrote decades ago that the next firm will be made up of top management while everything else is outsourced. Looking at the most successful small and medium sized ecommerce businesses today, we've definitely entered that reality.
No manager can do everything alone and, while doing core business functions in-house makes sense, no business should specialize in business support functions such as bookkeeping. That's why more and more rapidly growing businesses focus on their core capabilities and take advantage of outsource bookkeeping, payroll outsourcing, or payroll management, to high quality service providers. We recommend this path for your business as well.